The Source & Online Student Data Verification
Posted:
Do you have a Source Account?
(and if not, why you should)
Bailey Gatzert Parents/Guardians,
The district offers a terrific online option for parents/guardians to keep in touch with their student's school progress. That option is called The Source and I want to encourage all families to open a Source account.
Some things I think you will find especially helpful when using The Source are: Attendance, Assessments, Library, and Student Data Verification (open Sept. 6-30).
In the information packet you receive the second week of school, you will get more information about the Source and how to sign up for it. Or read below and get started now!
Create a Source Account
The Source provides access to student record information such as attendance, assessment scores, library information, the student data verification form, and much more.
Learn more about creating a parent or guardian Source account.
Student Data Verification (Sept. 6-30)
Gatzert Parent/Guardian,
The Seattle Public Schools online student data verification will be open the first day students attend school through September 30.
Areas you can update are:
Home address
Mailing address
Phone numbers
Parent contacts
Parent phone numbers
Parent addresses
Emergency contacts
Emergency contact phone numbers
Emergency contact addresses
Gender change
Legal name change
Preferred name change
No contact orders
Custody status
Doctor name and phone
Military family indicator
Life threatening health conditions
When you go to the Online Data Verification page, you will see what information we currently have and be able to delete incorrect or outdated information and input correct or new information.
Has your student developed a new health condition?
Do you have a new phone number or address?
Is there an Emergency Contact listed you would like to delete?
Is there a new Emergency Contact you would like to add?
Keeping the above information correct and updated is important for the safety of your student while in school. This online option is the most efficient and reliable way to ensure no important information is left out.
Please log in to The Source to update and verify this information.
---
View Attendance for Elementary Students
Click Grades and Attendance in the menu. (Elementary grades are not displayed on the Source.)
A summary of your student's absences will display below the schedule, you may need to scroll down.
Click the number for more information about the absence.

View Assessment Scores
If your student successfully completed the MAP, State, End of Course and/or WELPA assessments while attending SPS, you may find their scores on the Source.
Click Assessments in the left-hand menu.
Using the links or drop-down menu, select the assessment you wish to view.
Click Close Window when you are done.
Note: If your student did not take any assessments while attending SPS or did not complete the assessments, there will be no scores. If you have specific questions regarding your student's assessment scores, please contact their school.
Example of State Assessment scores:
Each assessment page will have links families may click to learn more about the selected assessment.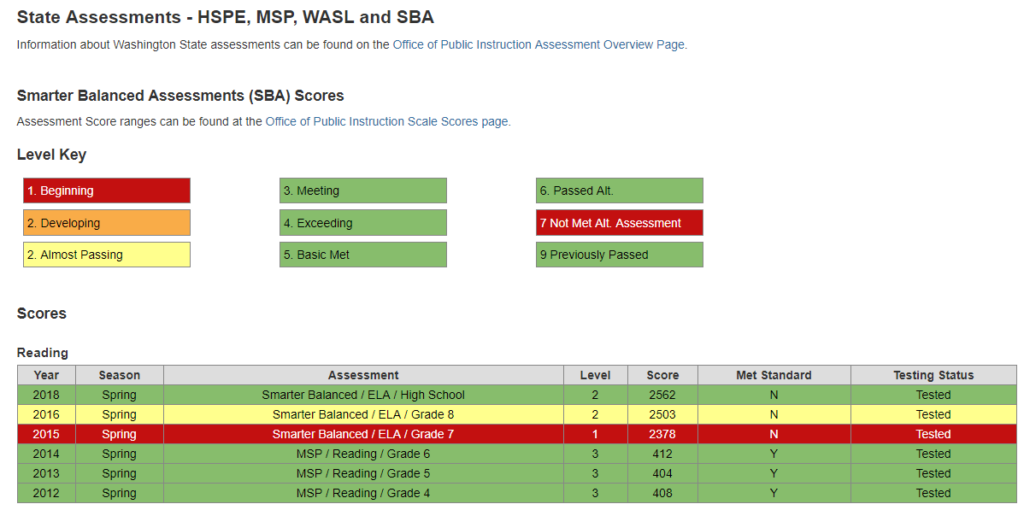 View Library Book Fees and Fines
Click Books, Fees and Fines from the menu to see if your student has checked out books, has overdue books, or has fines and fees.
Click Close Window when you are done.